Had the opportunity to catch Happy Feet 2 in 3D yesterday courtesy of
Tony Teh
Synopsis: "The sequel to Happy Feet, the Academy Award®-winning animated smash hit, Happy Feet Two returns audiences to the magnificent landscape of Antarctica in superb 3D. Mumble, The Master of Tap, has a problem because his tiny son, Erik, is choreo-phobic. Reluctant to dance, Erik runs away and encounters The Mighty Sven-a penguin who can fly! Mumble has no hope of competing with this charismatic new role model. But things get worse when the world is shaken by powerful forces. Erik learns of his father's "guts and grit" as Mumble brings together the penguin nations and all manner of fabulous creatures-from tiny Krill to giant Elephant Seals-to put things right. "Happy Feet Two" is directed by George Miller, who won an Oscar® as the creator of the original "Happy Feet." The film features the voices of Elijah Wood, Robin Williams, Hank Azaria, Alecia Moore (P!nk), Brad Pitt, Matt Damon, Sofia Vergara, Common, Hugo Weaving, Magda Szubanski, Anthony LaPaglia, Richard Carter and Benjamin "Lil P-Nut" Flores, Jr. George Miller co-wrote the screenplay with Gary Eck, Warren Coleman and Paul Livingston. Miller is also producing the film, along with Doug Mitchell and Bill Miller. Chris deFaria, Graham Burke and Bruce Berman serve as executive producers. Tap phenom Savion Glover rejoins the production to create the dances that will be performed onscreen by the penguin characters. The director of photography is David Peers and the animation director is Rob Coleman. The film features vocals by P!nk, with music by John Powell" (Warner Bros Pictures).
I did enjoy the first movie due to it's wide range of songs (Frank Sinatra's My Way,Chicago's If you Leave me Now, Beach Boy's Good Vibrations) and it's memorable characters (Ramon and The Amigos) Ramon especially with his wise-cracking lines, so does Happy Feet 2 live up to it's predecessors or is it just another attempt to cash in on the franchise before it sinks? Short answer yes but barely, long answer read on :
So this time around the movie revolves around Erik (Voiced by E.G. Daily) Mumble's son.(If you hadn't read the sypnopsis already). Who has problem expressing himself chereographicly. So after an embarassing moment he ventures off with from Emperor Land into Ramon's native land and adventure ensues.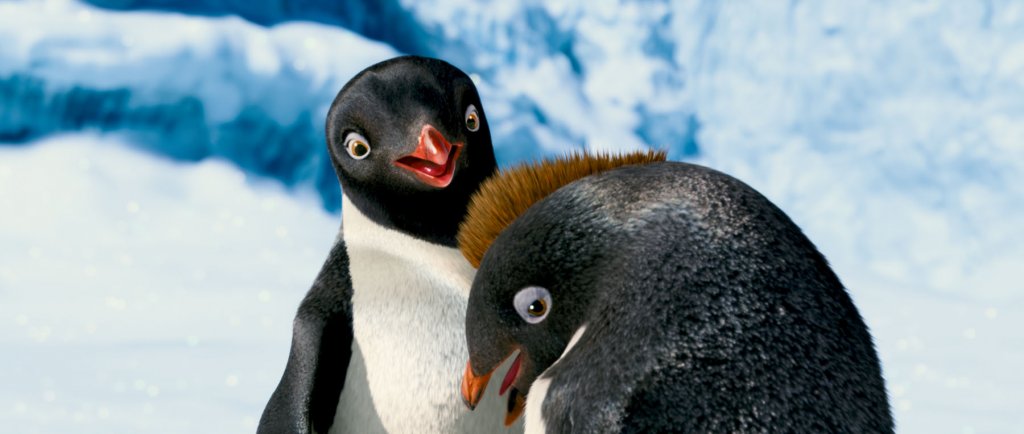 "I'm beautiful on the outside, but inside..."
Comedy wise, there's always something to laugh at, Robbie William does not fail to deliver each line with a punch and there's even references to a few memes if you're an internet savvy hipster(or addict) as well as some cultural references/mocks. Also expect a lot of racial references via accents in the movie and see how many you can recognise/catch.
The Krills - Bill and Will
Also there's this side story in the movie about two tiny Krills (reminisence of that squirrel thing from Ice-Age) which is pointless but provides some light entertainment with their PUN heavy lines of famous quotes and slapstick humour. Played by Brad Pitt & Matt Damon, though I had trouble by recognizing which krill to which will/bill.
3D? Well there isn't much 3D effects aside from the occasional snow falling and water splashing moments which isn't nearly impressing enough to warrant watching the 3D version.
The musical scores were a hit and miss. Some were awesome while some were just 'meh'. Though watching little penguins rapping is rather entertaining and cute. Especially liked the little penguin with a british accent.
Erik or E-rik
There's also a Looney Tunes short cartoon featuring Tweety and Slvester. Which is a nostalgic treat for someone who's born in the late 80's and spends half his childhood watching cartoons on MegaTV and on public channels.
My Rating : 7/10. Go watch the non-3D version, girls will go awwwww at the littl'e penguins.