Prepare yourself for the next installment of

Club Asahi

, one of the hottest party zones in the world, will be coming to Penang this 21st of June 2013 brought to you by

Asahi Super Dry

, Japan's No. 1 beer. Bringing the best of electronic dance msuci, ambience, energy and the infamous Miami heat,

Club Asahi

is set to sizzle the grounds of

Soju Room

. With a superb run since its launch, Asahi Super Dry pole vaults to greater heights by introducing the second instalment of

Club Asahi

-

Club Asahi Miami

Miami's social scene is hip, hot and happening and offers something for everyone 24/7. If the ultraglam, celebrity, music-infused outing is on the agenda then South Beach will be your destination of choice. If bistros, galleries and cappuccino's are what you crave, then stroll along the Biscayne Boulevard corridor, the newly named Design District or downtown Coral Gables. Fans of

Club Asahi

can look forward to having a first hand experience dancing through the night without having to travel to the Miami, Florida. The transformation of

Soju Room

Calvin Khoo

, Brand Manager of

Asahi Super Dry

mentioned, "

This indeed will be an amazing concept and enigmatic experience to be brought to Penang, Malaysia. Not only can clubbing fans enjoy pumping beats from Miami's world renowned DJs, a whole new world is created from inside a club. It is also a good platform for us to get to know our fans at a more intimate level. We are looking forward to

Club Asahi

Miami and Asahi fans should be too.

"

Headlining the second instalment of

Club Asahi

is Miami's top DJs,

Kryoman

and

DJ Henrix

. The lush melodies, pumping beats and funky tunes will have your mind blown away and it will be a night of non-stop dancing.
Kryoman
the half man half machine as many know him to be has been blowing minds inside the electronic music underground since nearly its inception. As 'rave' began to rise like a phoenix from the underground, so too did
Kryoman
Year after year, the man and the machine continued to evolve in a nearly streamlined path with dance music. The robot, as he has come to be known, takes revelers to a whole new realm of reality. He is the energy and the link that ties the artist with the audience, because, when the robot engages, he is channeling both.
DJ Henrix
a successful upcoming DJ with outrageous over the top talent, and a second act which isn't one to be missed. A Miami based DJ,
Henrix
has been on a roll lately with his single "
Let's Rave
" on Mixmash, getting support from DJs far and wide including by Laidback Luke during his appearance on Pioneer DJ Sounds as well as his upcoming single with GTA & Digital lab getting preliminary support from Kaskade, Laidback Luke, Steve Angello & Tiesto.
Besides the headliners, local bred Djs, the notorious
Mr Nasty
and
Guru Guru
will also be present and representing Malaysia. Regular clubbers in KL should be familiar with their name by now.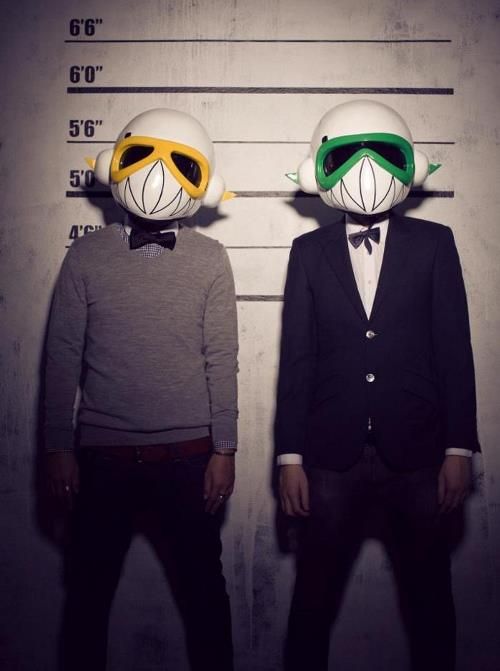 The notorious Mr Nasty and Guru Guru. Representing the Malaysia side for Soju Room this weekend!
Leading the clubbing scene into the next dimension,
Club Asahi
is pulling out all the stops and offering clubbers a new, unique platform to be entertained, be inspired and be in the forefront in igniting endless possibilities.
Club Asahi
is scheduled to take over
Soju Room
Georgetown on
June 21, 2013
from
8:30pm
onwards. Passes to the event is by-invitation only. To obtain your passport to Miami, log on to
www.facebook.com/AsahiMalaysia